When you bought your house, did you really look at all your monthly home costs or just the mortgage plus taxes and insurance, because that's what the banks focus on? 

As homeowners, you have several other monthly expenses like water and electricity. On top of that, you have full responsibility for maintaining your home, which includes making needed repairs and occasionally replacing things like the roof and hot water heater. 

Monthly Home Expenses: Financial 

You mortgage payment is the biggest of your monthly home expenses. Ideally you're including taxes and insurance in that payment, so you don't have to worry about being late. 

Monthly Home Expenses: Operating Costs 

As a homeowner, you … own it all. The comfort of your own home, along with the bills and the repairs. You probably have more square feet than the last home you lived in and that means more space (cubic feet) to heat and cool but there are lots more monthly home costs. You may not realize how much all your monthly bills add up to, unless you're using some type of program to track expenses. 
Electricity – costs vary across the US and you can 

find your state's average cost here

.
Heat/Cooling – is a tough statistic with many different ways to heat and cool your house. This map shows the 

average spending on gas and electricity

 across the US.
Water/Sewer – varies with the average water bill in the US at $51/mo according to

LeakBird.com.

Phones – most people don't have landlines anymore but if you do, traditional phone cost $20 to $30/mo.
Cable – expensive at $78/mo, and much higher than other countries. Learn why,

The Cable Bills Too High; Here's Why.

Internet – costs average from $50 to $60/mo, depending on your internet service provider.
Maintenance services – cleaning, lawn care, pool maintenance and more can easily average $100 or more every month.

Monthly Home Expenses Include Repairs & Improvements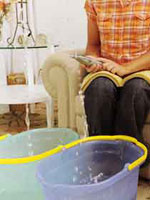 So it's hardly surprising that homeowners don't budget for home improvements and repairs. Let's add up all the numbers: 
With the 

median US house in 2013 costing $247,000

, let's use a $200,000 mortgage which means principal and interest of $1,074 (5%), taxes at $260 (1.25%) and insurance payment at $82 = $1,416/mo.
Adding up all the monthly operating expenses from above is $557, for monthly grand total of $1,973.

Depending on your income, if you're spending $2,000 a month for your house, you may feel like there's no money left over to budget for home maintenance and repairs. But what happens when there's a leak and the estimate for a new roof is almost $8,000? You're not going to save money ignoring home maintenance: you're going to spend more money plus you'll need to deal with a lot more stress. 

If you plan and save for a new roof, you'll avoid repairs from a leaky roof and have time to find a reputable roofing company rather than going with the only roofer to give you an estimate the day after you discover damage from the leak. You should budget 1% to 2% or $200 to $400/mo ($2,500 to 5,000/yr for a home worth $250,000) for ongoing maintenance and plan for replacing home features like your roof, hot water heater and more. To help you plan major home updates, these 2 articles tell you the estimate life of various home features (Planning for Exterior Home Updates and Budgeting for Interior Home Components). 
East Coast, FL Home Builder Stanley Homes – Jason Stanley, OWNER Stanley Homes is one of the areas fastest growing new home builders. We specialize in affordable custom homes on the East Coast of Florida in areas including Melbourne, Fl., New Smyrna Beach, Fl., Suntree, Fl., Viera, Fl., Rockledge, Fl., Malabar, Fl., Titusville, Fl.,  and throughout Brevard & Volusia County, Fl. Call us 321-369-9160